Keeping your horse's digestive health in optimal condition is important. And with SUCCEED, it's also easy. Just one serving of SUCCEED once a day, every day with regular feed is all it takes. That's it. No special mixing. No complicated feed program.
Feeding tips for best results:
Feed SUCCEED twice each day for the first week to 10 days of use, to condition the digestive system.
Always feed SUCCEED with the same feeding each day (e.g., with morning or evening feeding).
If you top dress with SUCCEED, do not leave SUCCEED exposed to air for more than 30 minutes, as this may reduce its appeal to the horse.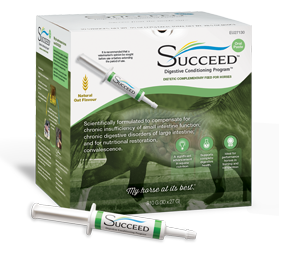 Oral Paste
Simply empty the contents of one oral syringe directly into the horse's mouth, once each day immediately before feeding. As an alternative, you may squeeze the contents of the tube directly onto the horse's feed as a top dressing. (Serving size 27 grams.)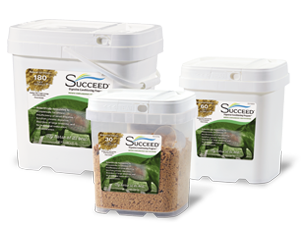 Granules
Just one scoop of SUCCEED granules (27 grams), applied directly on top of feed once each day, and you're done. No mixing. No adding other ingredients.
You can expect to see some results within 30 days, but wait 90 days for SUCCEED to take full effect.

Recommended Servings for Horse Sizes
SUCCEED has been formulated for the typical 1,200 lb. adult horse. Because it is a nutrition programme and not a pharmaceutical, the standard serving is also safe for smaller horses and ponies. We recommend:

Foals and Ponies
Under 600 lbs
Horses
Up to 1200 lbs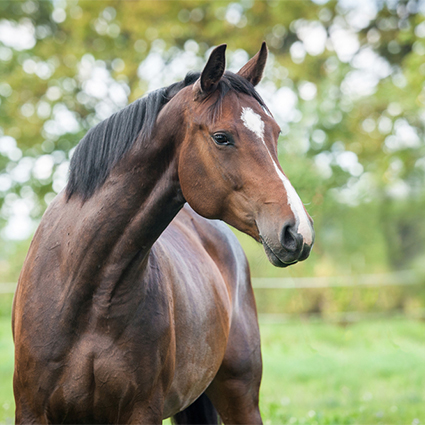 Large Draft Horses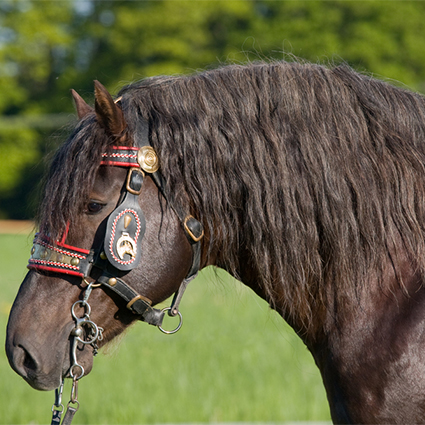 Frequently Asked Questions
For more detailed information about safety, handling, and using SUCCEED, see our FAQ section.