If you're
serious about horses
, what matters is doing things the right way, and doing right by the horse. You want your horse to be at 100%, so you give 100%.
That's why you ensure your horses get the right care, the right feed … and SUCCEED.
Serious horse people the world over use SUCCEED, a nutritional approach to managing the horse's digestive health, including the stomach and the hindgut. They know that a healthy digestive system supports every aspect of a horse's health. And that means better performance, better attitude, better everything.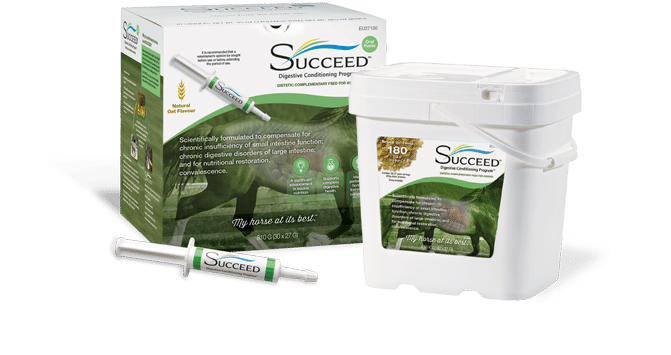 Uses for SUCCEED include:
Compensation for chronic insufficiency of small intestine function.
Compensation for chronic digestive disorders of the large intestine.
Nutritional restoration, convalescence.
SUCCEED® Digestive Conditioning Program: Formula for Success
SUCCEED Digestive Conditioning Program is a serious product for serious horse people. It's the only digestive health supplement for horses with multiple patents worldwide. It's a proprietary formula of nutritional ingredients with superior quality and purity, including:
Oat Oil
Oat oil is extracted through a unique process to retain a high concentration of polar lipids, specialised fat molecules that provide a variety of benefits in the gut.
Oat Bran
From a higher-bran, lower-starch oat, processed to retain a high concentration of beta glucan which aids nutrient absorption and helps to moderate the rate of digestion.
Yeast Products
Yeast includes a beta glucan and a mannan oligosaccharide from yeast Saccharomyces cerevisiae, rich in nucleotides necessary for cell development as well as healing.
L-Arginine
The amino acid L-Arginine is important for proper immune function, tissue repair, healthy circulation and enhanced exercise capacity.
L-Threonine
L-Threonine supports production of mucin, a necessary component of the mucus that lubricates and protects the gut lining.
Product Labeling and Composition Details
Serious horse people also know that SUCCEED is backed by rigorous scientific studies. And most important of all – they know it really works. Research and data are available in the SUCCEED Veterinary Center.
Ready to try SUCCEED? Talk to your veterinary surgeon today.
Using SUCCEED® Digestive Conditioning Program
Keeping your horse's digestive health in optimal condition is important. And with SUCCEED, it's also easy. Just one serving of SUCCEED once a day, every day with regular feed is all it takes. That's it.
It is recommended that a veterinary surgeon's opinion be sought before use or before extending the period of use.