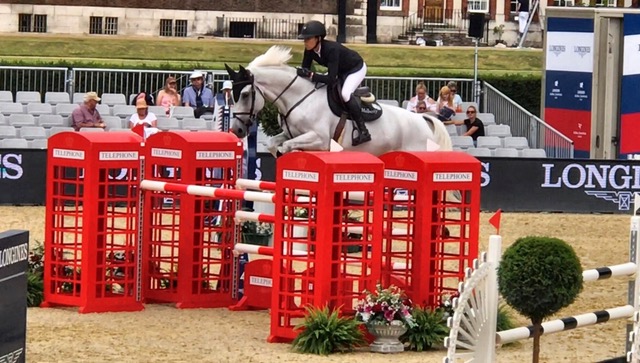 Photo Credit: Tess Carmichael
SUCCEED sponsored showjumper Tess Carmichael shared a report on her recent success competing on the Longines Global Champions Tour, which included events taking place in Monaco, Paris, Chantilly, London, Valkenswaard, Rome, St Tropez and even New York.
Tess recounted that Bangle put in a great show at Monaco, securing a couple of placings in the 1.40m classes, which she had only recently moved up to. With one of the smallest arenas on the entire tour, she was very pleased with this talented mare. She was also equally relieved that Bangle had overcome her fear of water trays just in time!
The ProAm saw Tess partnered up with Gold Olympian, Marcus Ehning who, lacking a horse for this class, took on the ride of Bangle. Tess exclaimed, "it was amazing to see her go around with such a legendary rider."
Sadly, Bangle pulled up lame on arrival at the Paris leg of the tour. Keen to get her back home for treatment, Tess substituted Carl instead. Luckily, Bangle just had a foot abscess, but it gave Carl some valuable experience, and he really stepped up to the 1.30m classes.
Atlantis, who had recorded a 3rd place in Monaco among stiff competition, also jumped really well in Paris with a 7th placing in the 1.35/1.40m and just a couple down in the Grand Prix. Carl and Kojak headed the short trip from Paris to Chantilly for the 12th round of the tour. With the competition taking place in the grand surroundings of the Château de Chantilly, it was again another great experience for Carl, who really tried hard.
Bangle, now thankfully back to full fitness accompanied Kojak to the London event of the Tour and was placed 2nd in the 1.30 speed class. However, after a very promising start, Kojak appeared to have picked up a minor injury. Tess hopes he'll be back up and running again within the next few weeks.
The phenomenal showground at Valkenswaard, in The Netherlands was the next Tour venue. Carl went with Atlantis, and again both horses tried their best and were feeling great.
At the beginning of September, Bangle and Atlantis traveled to Rome. Atlantis jumped beautifully and recorded an 8th placing in the 1.35/1.40m. Tess was planning to ride Bangle in the Grand Prix but, due to very badly timed downpour just before they were due to jump, Bangle became really unsettled. Tess made the difficult decision to withdraw and save her for another day.
The final show of the European leg took place at St Tropez in mid September. Harley, who hadn't been anywhere since May, was very pleased to join the party and jumped well throughout, finishing 5th. Tess reported that "Carl was incredible." She continued, "I really feel like the shows he's been doing in the run up have given him a lot of confidence. He feels like a different horse from last year and has really matured into himself. We had a time fault in the 1.30m final but he felt amazing. Really very proud and excited about the horse he's growing into!"
An 8-hour flight across the Atlantic delivered Bangle and Atlantis to New York. A debut for this event, it took place on Governors Island with the Statue of Liberty on the skyline. Tess remarked "it was pretty hectic!" But they had a great show with a 2nd and 3rd on the first day and a win for Bangle in the 1.30m final!
Tess tells us that, "Of course we've taken SUCCEED with us! They have all managed so well throughout the tour with all the travelling, and it's been so important that they maintained their appetite to help them really compete at their best".
Reflecting on the trip to New York, Tess emphasised that "SUCCEED definitely helped them through the challenge of quarantine as well as the flight, particularly as neither horse had ever flown before. After the long journey, they had two days in quarantine where the horses were not allowed to leave the stable block and only handwalked a few times a day. It was very different from their normal routine, plus taking into account the time difference and change in forage, this could have easily created a digestive tract upset. Thankfully, they really coped very well.
"SUCCEED really provided the extra digestive tract support they needed throughout the trip and all horses are now back home, happy, healthy and enjoying a well-earned rest!"
Tess added that "All my horses thrive on their daily SUCCEED and I wouldn't be without it!"